Testimonials
DeFabio Chiropractic Spine & Sports Rehab
---
Thank you for the awesome work you do on my back, you're the BEST!
-LM
---
I want to thank Dr. Defabio so much even though I have never met him. I saw his you tube video on mortons neuroma and the graston technique. This prompted me to get a chiropractor and we used the video as a guide with amazing results. I really, really , really appreciate your tutorial video and it change the pace of my recovery immensely. You are truly a great person.
Thank you again. Erich, in Vancouver Canada
---
I came to Dr. DeFabio with severe psoriasis that covered almost 90% of my body. Based on the late Dr. John Pagano's method of healing psoriasis naturally, and Dr. DeFabio's additional tests, I followed his nutrition plan and got regular chiropractic adjustments. It took me a long time to get the results I wanted with a few ups and downs, but I was determined to stick to the regimen. Dr. DeFabio and each of the staff were extremely supportive and encouraging, which made all the difference in my healing process. I have greatly improved, and I still see Dr. DeFabio regularly for adjustments and nutrition consultations. I also started acupuncture with Amanda, which has been a great addition not only for my psoriasis but for whatever I feel needs fixing at the moment.
- Anoush Gulian
---
If it wasn't for Dr. DeFabio, I would not still be able to compete today. He keeps me mobile and able to continue doing what I love day in and day out."
- JB
---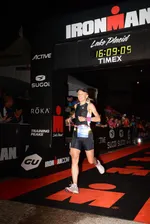 Attached is a picture of me with my favorite chiropractor, Dr. Donald DeFabio, holding my award plaque for finishing second in my age group at Ironman Lake Placid! Being able to finish a challenging race like this requires a commitment to a heavy schedule of training, including doing all the right exercises to maintain a healthy back and stabilizer muscles.
Dr. DeFabio worked with me every step of the way as I trained to make sure that little aches and pains were managed and did not turn into full-blown injuries. I am pleased to say that I finished my first Ironman triathlon (and placed 2ndin my age group!) without a single physical complaint!(See the attached picture of me smiling as I sprint into the finish!)
Thanks, Dr. D!
- Cande
---
Hi Dr. DeFabio, Just needed to tell you, the newsletters are fantastic. But second to your great practice, staff and healing hands. I just needed to share that with you. Hope everyone at the office is doing well. Best.
- Lori
---
"Congratulations to you for 'Best Doctor' Award! We are happy with you and of course know it is highly deserved. You helped us 'keep moving'- such an essential element to human happiness. You have done it to many! Celebrate and Thank You!"
- CC
---
"I ran the Dog Day 5 Miler at the shore this year. I was able to run the whole 5 miles, a first time for me. Thanks Dr. DeFabio, for teaching me how to get into shape for the race! I had great strengthening and warm-up exercises, thanks Dr. DeFabio! All injury points were under control, thanks Dr. DeFabio! I knew I could do more if I was feeling good and slow down if I wasn't, thanks Dr. DeFabio! The day was cool and shady, a perfect day for the race, thanks Dr. DeFabio? Aw heck, I'll give you credit for that, too!"
- Carol
---
"I just want to express my Thanks for all the good work you'all did for those months I was getting adjusted and fixed. You did a great job. I'm continuing on my exercises as prescribed by Doc and supported by Nick. I've added swimming at the Summit Y and with the encouragement of your Newsletter article will do Yoga soon. You all are the BEST! If I get into a need situation, be sure I'll be back. Thanks so much for everything."
- Marshall
---
I would like to share with my friends a quick story. Anyone who knows me, Knows that I have been physically in pain for years. I have suffered with Migraines for over 10 years & for the past 3 or so years it's been worse. I have had 2 to 3 a month. I have been to doctors upon doctors & nothing has helped me. No one could help me. It was always…. Take this medicine... Take this Pain Killer…. I suffered through excruciating pain in my neck & shoulder for years with no relief.
I had 2 MRI's last year. One of my brain & one of my neck. I was diagnosed with Degenerative Disc Disease & have a Small Lesion in my Right Frontal Lobe & small hernias in the base of my neck. I have been very scared & in constant pain. The pain has caused me to refrain from certain activity… simple walking….outings with friends & family. I've had to cancel plans, leave early due to crying from pain… Vomiting, Neck, Shoulder Swelling… You name it I feel it. My Doctor recommended I go see a Therapist for the Pain. So I was referred to Dr. DeFabio.
I want to share this because if there is anyone out there who has felt as helpless as me & frightened from the pain you MUST go see him.
I ONLY started to see him in mid-June. Dr. DeFabio has a staff of really wonderful people that are there to help.
I have had NOT ONE Migraine since I have been going. My pain has already subsided tremendously. I am improving every day!! I LOVE going to see Dr. DeFabio because he is a gentle kind soul with the education, compassion & background to help you heal!!! I feel so grateful & happy every day. I am sure my friends are happy because God knows I complain less of the pain. I am really so happy & look forward to each visit. Each visit brings me closer to a Better Life!!! I have been going 2 xs per week for only 6 weeks & I feel so much better. More confident & happy.
If anyone feels that there is no help… I can PROMISE you Dr. DeFabio can help you. He's saved me already in such a short period of time. Thank you, Dr. DeFabio!

Love & Gratitude,

Angela Sweeney
---
"Dr. DeFabio is fantastic and helped me a great deal."
- Nick D'Angelo, Berkeley Heights
---
Going to Dr. DeFabio means I'm getting all of my body parts - not just the spine - in proper alignment. It means I'm reducing and ultimately eliminating stress on joints by relaxing and de-stressing muscles, nerves, tendons, etc. I am very pleased with chiropractic services at this office and, coupled with a good exercise program, highly recommend this alternative medicine as a way to gaining and maintaining optimum health. M.D.R.
- Berkeley Heights, NJ
---
Dear Dr. DeFabio,

Thanks for a life renewed.
Last September I sat dejectedly in my living room chair. My body was racked with pain. Ice packs were positioned on my shoulder and my limp and useless arm hung lifelessly at my side. "My life is over", I thought. "There's nothing I can do." Months later, following heavy daily doses of medically prescribed drugs, cortisone injections and physical therapy, my useless arm remained the same; so did my dismal outlook on life.
Faced with impending invasive surgery on my shoulder I sought an alternative direction for my health care. Upon the advice of a trusted friend, I visited your office. Talk about quality of life!!??
Within six short weeks of your hands-on treatments, I discarded the use of pain-killing drugs. In addition, I began a long-needed project in my home; the painting of three rooms. Now, that's the painting of ceiling, walls, windows, doors, wood trim and even a fireplace. What fun! I loved, yes, loved the work. I loved the activity. I loved the return to life. Thanks, Dr. DeFabio. Your manipulations, your encouragements, your stretching exercises, indeed, your chiropractic skill has brought life back into my life.
Thanks for a life renewed.
Gratefully yours,
George Decker
---
Dr. DeFabio,
Something you said resonated with me today...you mentioned that I have a commitment to my health. I want to let you know that was not always the case because I have had my back/neck pain for almost two years now. It's because of you and your staff that I have this commitment - - - the effectiveness of your treatment showed me how great I could feel and reminded me what it could be like to live almost pain-free.
Just want to say thanks....life's hecticness sometimes don't allow us to take the time but this was important enough.
Much appreciation.
Judy
---
Dear Dr. DeFabio,
I have taken much too long to write and tell you how happy I am being healthy and at full strength again! I had major surgery on my shoulder following an injury in the weight room. Three years later I was still unable to do half the weight on the bench press that I could lift prior to my injury. I had 6 months of three day a week rehab, saw several doctors, had anti-inflammatory pills, had a cortisone shot, had acupuncture, went to a chiropractor, and still nothing changed. Then a friend in the weight room recommended you. From day one you were determined to try whatever method showed the most promise and results. You paid critical attention to my progress and focused on the areas that needed the most attention to become normal. Fitness and weightlifting have been a part of my life for over 20 years now. I was getting myself mentally prepared for the prospect of never being able to bench press again. Thanks to your work my mental and physical well being are sky high. I think of you often, and aggressively recommend you to all who ask. God bless you and I hope your practice prospers as it deserves to.
Thank you again,
Billy Ortman
---
What chiropractic means to me in one simple word is RELIEF. It helps take stress and pain away and allows me to perform my best at all times." E.B.
---
Dear Don,
I want to write you a note of thanks for the good work you did for me this year. As a fellow Chiropractor, I appreciate your expertise and skill. I just completed the Jersey Shore Marathon which would not have been possible without your help.
Back in February, I became hobbled by an ankle injury which kept me from running. I was able to train for three weeks, but after three of your treatments, I was running again in just a few days. Thank you again for fixing my body. Keep up the good work!
Life abounds with Chiropractic,
Raymond Milazzo, DC
Chiropractic Wellness Center
---
Dear Donald,
Just a word of thanks for taking such good care of me over the last few years! Best expressed as follows:
My back gets these pains, sometimes to my toes. Where it shows up next, only God knows. But the good Dr. Don makes me better than new. As he does it for me, he can do it for you!
Aside from your medical talents, you are a caring and faith-filled man, and as such you are a blessing to me and I'm sure to all your patients.
Sincerely,
Howard Meyer
---
"Chiropractic has provided a means of achieving 'maximum health,' 'maximum recovery" from a recent injury. On maintenance, my circulation, joints, and mobility are maintained. Any stiffness, tightness or achiness from day to day stress doesn't have a chance to develop into a problem. My recent injury received the benefit of traditional therapy, but with chiropractic as an adjunct and beyond, I continue to regain strength and mobility. Thanks, DCA." A.J.M.
---
Dear Donnie,
No wonder you are so successful. Taking the time to follow up with a patient; almost a lost art today. Couple that activity with your warmth, wit, caring attitude and willingness to help as you are a fellow at the top of his profession.
See you Saturday. X-ray sounds good to me.
Ron Bushwell
---
Dear Dr. DeFabio,
Just a note to express my gratitude, I don't know if you remember, but when I first came to you three years ago, I had been in pain every single day for 13 months. I woke up in pain and it took 4 or 5 hours of pain medication and moving around before I could function properly. And then, after only 9 weeks of your care, I became completely pain-free and have remained that way ever since.
You may recall that I was diagnosed with cervical arthritis about 25 years ago. I had episodes of pain five or six times a year and periodically consulted with my family physician and an orthopedic specialist. No one was able to help and I had resigned myself to always having these pain-filled episodes. Then, 4 years ago, I had an especially lengthy and painful episode which put me in pain every single day thereafter for over a year.
I was at the end of my rope when a nurse friend of mine strongly suggested I see you. And the rest, as they say, is history. Being pain-free is truly one of the most liberating experiences of my life. And it's all thanks to you!
And, of course, now, you have helped my sister as well-who was on a fairly large dose of pain medication for the past 10 years. As you know, she was born with severe scoliosis and it was thought at one point that she would never walk. Now, she too is getting well under your ministrations - after more than 30 years of restricted activities and episodic pain.
Doctor, as you can imagine, we will ever be grateful for our caring and excellent treatment. Please call me if I can ever be of assistance to you!
Warm personal regards,
- Teri Malone-Marsh.
---
"Not only does regular chiropractic care ease the pain in my shoulders and back, but it also keeps me healthier throughout the year - fewer colds, headaches, and 'blah' days."
- J.E.O.
---
Hello,
Just had to say THANK YOU! Your special time and attention to my migraines by all at "DCA" has alleviated my pain. I am so glad that you all take such care and time in your patient/client relationships.
Hopefully, others I know will join in the Chiropractic way to Feeling Great!
- Gwenda Bury.
---
"Chiropractic means I can feel great. Many times I can hardly move without a visit to the chiropractor. I can't say thank you enough. "
- D.B.
---
Dear Donald,
Thank you so much for everything while I was staying in Kona for Ironman. I will never forget your kindness. With your help, I could do my best. It makes one happy and satisfied and now I miss all of you, my friends. I wish I could see you again in Kona. I'll send you some photos, so please forget me not.
Thank you,
Takayuki Kojima
---
"The importance of mind - body - soul. The well being of my body and to help it function, to keep my joints going for the wellness of my life."
- H.K.
---
Dear Dr. DeFabio,
Thank you-Thank you so very much. You really got to the root of the problem bothering me for years. I can feel the difference. I'm sure there will be follow-up adjustments, but the real problem has been discovered. Thank you, doctor, for your gift and talent. Real relief has come for me. God Bless you.
Fondly and Prayerfully,
Sr. Catherine Mary, O.P.
---
As the Mother of twin toddlers, I found Dr. DeFabio's office to be nurturing and supportive. One of my twins was suffering from chronic ear infections. Countless visits to the pediatrician and prescriptions for antibiotics did nothing to help the constant reoccurrences. I turned to Dr. DeFabio for help. After several visits to Dr. DeFabio along with his nutritional guidance, my son's chronic ear infections disappeared. I would highly recommend Dr. DeFabio to any mother who has a child that suffers from chronic ear infections.
- ME.
---
Dear Dr. DeFabio,
Due to your kind and loving care, I am celebrating my 92nd year.
God Bless you.
Trudy Barr.
---
Dr. DeFabio,
Thank you for coming to Emily's assistance with her neck problem. She would not have been able to compete at Senior Nationals without your professional assistance and extra efforts.
Sincerely,

Ellen Peters.
Personnel Decisions, Inc.
Building Successful Organizations.
---
Dear Dr. DeFabio,
I wanted to take the time to thank you for recommending me for the Manipulation Under Anesthesia program. As a result, I've regained mobility and eliminated the pain I endured after my accident.
Being a singer and a songwriter the procedure also allowed me to get back to the performance level I had once been. Thanks again to you and your staff for making my treatment as pleasant as possible.
Sincerely,
Joseph Brack.
---
Dear Don,
Congratulations to you and your wife for being selected as the Family of the Month for February. You and your wife are very deserving of the selection.
Please forgive me for being so late in congratulating you.
Yours truly,
Stan.
P.S. Anyone I have sent to you is very impressed with your abilities. Keep up the good work.
---
"It means being able to go about my daily life without pain and discomfort from migraines, etc." "Thank you," G.B.
---
Dr Donald,
I am extremely satisfied with the care you are giving me, and I have been sharing the Good News with my friends. You both have saved me from a possible knee surgery, and I didn't even need medication -- thanks to the chiropractic adjustments and suggested exercises you have provided me with. I cannot thank you both enough, for all you are doing for me -- for my knees, hips, back, neck, sinuses, shoulders, feet, legs, arms -- what you have for all of me!!! My whole body feels so different, thanks to the professional adjustments you have provided me with, and to all, you have taught me, so that I can take care of myself better.
God's blessing is with you, your staff, and with all those you serve.
With much appreciation--
Sister Mary.