How Our Chiropractors Diagnose and Treat Plantar Fasciitis
As a Board Certified Chiropractic Sports Physician serving Berkeley Heights, NJ, and the surrounding communities, Dr. Donald DeFabio has considerable experience treating a wide range of conditions. The whole team here at DeFabio Chiropractic Spine & Sports Rehab is dedicated to determining the cause of your symptoms and addressing them through safe, quality chiropractic care.
If you're suffering from plantar fasciitis, which is one of the most common (and most unpleasant) causes of heel pain, then you need dependable help today. That's where we come in, with a full look at and range of treatment options for this common condition.
What Is Plantar Fasciitis in Berkeley Heights?
The plantar fascia is a ligament that connects your heel to your toes and supports the arch of the foot. If you strain this ligament, it becomes inflamed, which can make it swell, weaken or become very painful. Typically, you will feel it most when you're standing or walking, although it's possible you may feel it even at rest. Although it more commonly affects middle-aged people, it is also relatively common in young people who are on their feet a lot.
What Are the Most Common Symptoms of Plantar Fasciitis?
Plantar fasciitis is a pain in the heel that intensifies when you've been on your feet for a long time or when you're climbing stairs. It usually does not bother people at night, when they've been off their feet for a bit. If you're having nighttime foot pain, it could mean you are suffering from another condition.
What Are the Common Causes of Plantar Fasciitis?
A number of factors may lead to plantar fasciitis. Straining or pulling the ligament can occur as a result of vigorous exercise or "tweaking" your foot, but it is just as common a result of long walking or standing all day. It also commonly affects people who are overweight, wear improper footwear, have tight Achilles tendons or calf muscles, have high arches or flat feet, or who exhibit excessive pronation.
How Can Chiropractic Care Help Treat Plantar Fasciitis?
When you suffer from plantar fasciitis, you need safe, non-pharmacological and non-invasive holistic treatments. We use an integrative approach to help you achieve pain relief, reduce the symptoms of plantar fasciitis, and return to function and wellness for good. Our approach combines diagnosis, gentle adjustments, and lifestyle advice to ensure you're taking good care of your body at home. All you have to do is get in touch.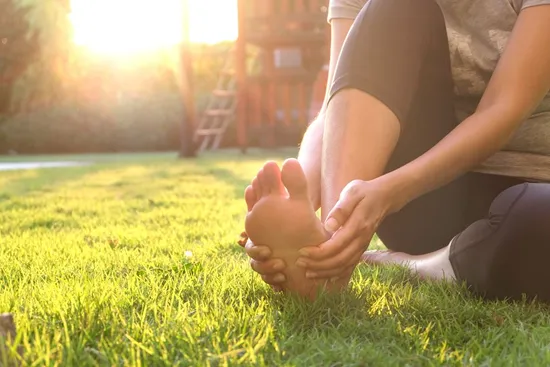 Make an Appointment for Plantar Fasciitis Care in Berkeley Heights Today
Are you ready to find pain relief or management for a condition resulting from an accident, an injury or another cause? Dr. DeFabio can help, with carefully tailored adjustments and advice that help you increase mobility, decrease symptoms and live a healthier life today. Head to our testimonials page to see what our patients are saying about our Berkeley Heights Chiropractic Sports Physician.
When you're ready to get in touch, please call us at 908.771.0220 or request an appointment through our website. We look forward to seeing, and serving, you soon!